Introducing Engage Lane
Engage Lane is an agile transportation procurement platform that assists carriers and shippers in uncovering better ways to move freight–together. The software solution is your link to closing deals in days, not months.
By becoming an Engage Lane carrier, you will receive instant freight lead options, direct with shippers, based on where you operate or want to grow. Engage Lane shippers overcome disappearing capacity issues, reduce or eliminate fees and save time.
Set up the EDI process just once and connect to all shippers/carriers on the platform
Shippers create lanes
Carriers establish routes
Engage Lane works to make matches based on equipment, insurance coverage, CSA scores, distance, proximity and more as required by the shipper
With Engage Lane, carriers can access more contracted freight; shippers have more capacity options. And both connect faster to move freight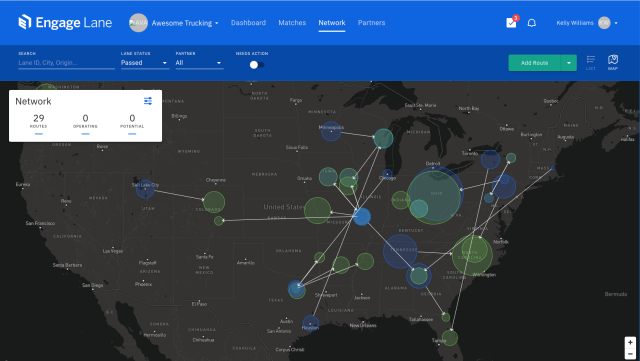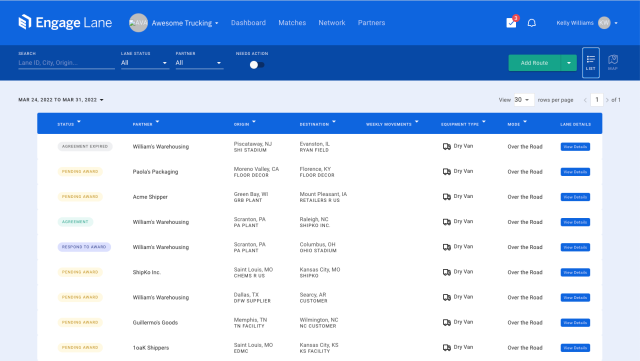 We Speak Carrier

Engage Lane Speaks Carrier

"I have capacity, but I need more freight leads."

Engage Lane gives you instant leads from premium shippers in the geographies where you operate.

"Sometimes freight awards can take months. It's ridiculous."

Ready to move? Engage Lane can get you awarded freight and on the road in a matter of days.

"We run our network the right Way, but we still can't make the bid list for [INSERT SHIPPER]"

Get access to Engage Lane's entire network of premium shippers instantly.

"Making EDI connections to new shippers is incredibly frustrating."

Get access to Engage Lane's entire network of premium shippers (like P&G and RH) instantly.

We Speak Shipper

Engage Lane Speaks Shipper

"I know the right carrier for my problem lanes is out there, but I can't find them."

Engage Lane vastly expands your network by directly connecting you with best-in-class carriers.

"The freight procurement process takes WAY too long."

P&G reported Engage Lane delivered a 90% time savings to procure freight compared to their previous processes.

"Connecting with new carriers is an administrative nightmare."

Connect once to Engage Lane, and you'll get access to our entire network of carriers (and their competitive rates).
It's A Volatile Market
Turn to Trimble Transportation for technology to transform, navigate and improve the procurement process.
Engage Lane works by continuing the important role of supply chain technology to help carriers and shippers connect directly and adapt to a new, challenging operating environment.
Engage Lane works for you to:
Accelerate contracted transportation procurement
Assist in closing deals in days, not months
Optimize a freight network
Establish EDI connection ONCE to access all shippers/carriers on the platform
Reduce costs and inefficiencies
Expand direct visibility to lanes and capacity