Joining the Trimble Transportation Partner Program
The Trimble Transportation Partner Program is for suppliers that wish to participate in the Trimble Transportation ecosystem of solutions that include Transportation Management Systems (TMS), Fleet Management Systems, Fleet Maintenance, and Visibility Solutions for Shippers, Carriers, Brokers and Logistics providers. It currently includes 300+ other suppliers that provide unique value to the Transportation sector. In some cases the supplier might be a partner with one Trimble solution while at the same competing with another Trimble solution and that's ok.
A partner can be defined as one or more of the following:
Integration Partner: A Company that agrees to data integration via an Application Program Interface (API) for the benefit of customers. Examples include transportation management, fleet management or visibility management suppliers.
Product Partners: A Company with complimentary product/service implemented as a Trimble Value Added Service (VAS) offering for the benefit of the end customer. Examples include remote diagnostics, imaging, and fuel tax suppliers.
Referral Partner: A Company that generates qualified sales leads to Trimble. Examples include organizations servicing the transportation industry.
Indirect Channel Partner: A Company that represents Trimble Transportation in a specific industry and/or geography. Examples include dealers, VAR's (value-added resellers), and distributors.
The process to become a Trimble Partner is straight forward:
Intake – Partner completes Partner Information form
Discovery – Trimble and Partner get to know each other via conference calls and in some cases in-person visits
Vetting – Trimble will review request and approve if appropriate
Agreements – Partner signs Trimble partnership agreements
Development & testing
Release to production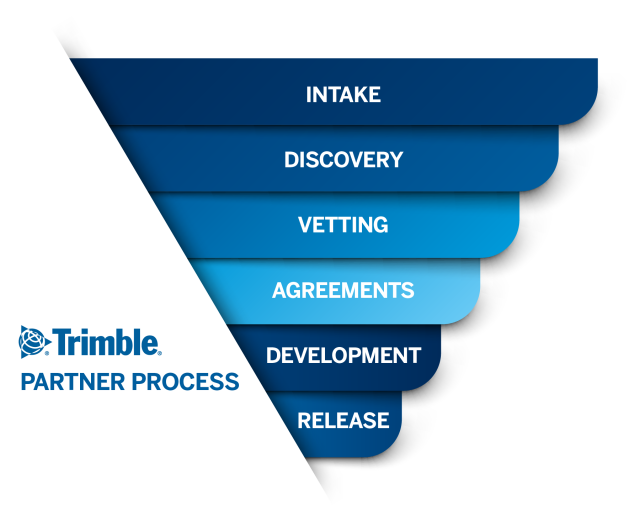 If you wish to be included in the industry's top-tier of industry suppliers, please complete the Partner Information form below and we'll get started to help you create the path to becoming a Trimble Transportation Partner.