Tab Active4 Pro

Rugged In-Cab Tablet

Samsung Tab Active4 Pro

Dimensions & Weight

9.56 x 6.7 x .4"
1.48lb (device) / 1.81lb (with case)

Processor & Memory

Qualcomm SM7325 2.4Ghz/1.8Ghz, Octa-core
4GB RAM, 64GB Storage
MicroSD Up To 1TB

Display

10.1" TFT LCD
1920 X 1200 (WUXGA)
Touchscreen

Ports & Connectivity

3.5mm Stereo
Type C USB 3.2/ Fast Charging
5G**, LTE, Wi-Fi 6 (802.11 a/b/g/n/ac/ax, 2.4GHz + 5GHz, MIMO)
Bluetooth v5.2 BLE
GPS

Durability

IP68
Anti-shock (Drop from 1.2m heigh with cover)

Battery

7,600 mAh
Replaceable + No Battery Mode

Tab Active3

Rugged In-Cab Tablet

Samsung Tab Active3

Dimensions & Weight

5.02" x 8.45" x 0.39"
.94 Lbs

Processor & Memory

Exynos 9810 Octa Core (2.7Ghz / 1.7Ghz)
4GB, 64GB
MicroSD Up To 1TB

Display

8.0" TFT LCD
1920 x 1200 (WQXGA)
Touchscreen

Ports & Connectivity

USB Type-C
802.11 a/b/g/n/ac/ax
Bluetooth 5.0

Durability

Device and S Pen: IP68
Anti-shock Device Only: 1.2m / Device with Cover: 1.5m

Battery

5,050mAh
(Replaceable), Fast Charging, No Battery Mode

A7 Lite

In-Cab Tablet

Samsung Tab A7 Lite

Dimensions & Weight

8.37" x 4.91" x 0.31"
.81 Lbs

Processor & Memory

Mediatek MT8768T Octa Core (2.3GHz + 1.8GHz)
RAM 3GB, Storage 32GB / 64GB
MicroSD Up To 1TB

Display

8.7" TFT LCD
1340 x 800 (WXGA+)
Touchscreen

Ports & Connectivity

USB Type-C (2.0)
Wi-Fi 802.11 a/b/g/n/ac
Bluetooth v5.0
GPS

Battery

5,100mAh
Li-Ion / Fast Charging
Trimble Duo

All-In-One Display

Trimble Duo

Dimensions & Weight

7" LCD tablet – 9" W x 6.2" H x 1.2" D
1.5 lbs

Processor & Memory

Freescale i.MX6Q Quad Core (ARM Cortex A9 cores) running at 1.0GHz (2.5 DMIPS/MHz per core) or higher performance
2GB, 16GB Flash
MicroSD Up To 128GB

Display

7 inches color TFT LCD display
WSVGA (1024 x 600)
Touchscreen

Ports & Connectivity

Two USB 2.0 ports; Type-A USB port (Client only) 5-pin micro-B female connector (Charging only)
802.11 B/G/N/AC STANDARDS
1 3FF SIM card slot for the LTE cellular modem
Bluetooth 4.2

Temperature Range

Operating: -20° C to +70° C
Storage: -30º C to 80º C

Trimble Duo Display

IN-CAB DISPLAY

Trimble Duo Display

DIMENSIONS & WEIGHT:

Following is the maximum overall dimensions of the main unit and the antenna module.
Width: 9.0 inches
Height: 6.2 inches
Depth: 1.2 inches
Weight: The maximum weight of the unit is 1.5 lbs.

MAIN PROCESSOR UNIT:

CPU: Freescale i.MX6Q Quad Core (ARM Cortex A9 cores) running at 1.0GHz (2.5 DMIPS/MHz per core) or higher performance.
Flash Memory/Mass Storage: 16 GB eMMC managed NAND flash memory minimum
Main Memory: 2 GB DDR3 533 minimum

LCD DISPLAY SCREEN:

Size: 7 inches color TFT LCD display
Resolution: WSVGA (1024 x 600) minimum
Backlight: LED
Brightness: 500 nits minimum
Contrast Ratio: 500:1 minimum
Viewing Angle: Horizontal (left/right) = 70 °/ 70 ° minimum;
Vertical (top/bottom) = 50 °/ 60 ° minimum
Response Time: 20ms maximum over the entire operating temperature range

USB:

Two USB 2.0 ports will be provided. Following are their location and connector requirements. Located on the side of the unit.
USB Port 1: Type-A USB port (Client only)
USB Port 2: 5-pin micro-B female connector (Charging only)

EXTERNAL STORAGE:

Full SD card slot that supports SDXC format with capacities up to 128GB memory card. Access to the SD card should be secured.

ENVIRONMENTAL REQUIREMENTS:

Operating Temperature Range for the System:
–20 °C to +70 °C with external power
–10 °C to +60 °C with battery power

Storage Temperature Range: – 30 °C to +80 °C
Operating Humidity: 0-95% non-condensing
Trimble Gateway

T511 Onboard Computer

Trimble Gateway

Dimensions & Weight

7.01" L x 4.5" W x 1.92" H
1.2 lbs
Mounting Tabs

Processor & Memory

NXPi.MX6D Lite (Dual Core Cortex-A9) @800MHz
8 GB eMMC Flash, 1 GB DDR3 RAM

Communications

4G Cat 4 Regional with 3G/2G Fallback
WiFi 802.11 a/b/g/n/ac at 2.4 and 5GHz
Bluetooth 5.0 and BLE
Cellular Main, Secondary, and GNSS internal
Internal GPS antenna

Locating

GPS/GLONASS/Galileo
<2.5m CEP positional accuracy

Power

Less than 50 Watts, typically less than 1.0 Amp Current Draw
Voltage range 6-36 VDC from vehicle battery
Internal lithium battery 1050 mAh
Keep Your Money in Your Pocket
By bundling your hardware and software needs together, you can access a complete suite of trucking tools for a single monthly price.
Select the right mix of technology for your fleet. Then use your chosen combination of in-cab displays, in-vehicle gateways, and powerful software applications for mobile communication, in-cab navigation, messaging and more. to maximize the productivity of your drivers.
Ready for Today, Prepared for Tomorrow
Connect People, Devices, and Data
Combine Software With In-Cabin Displays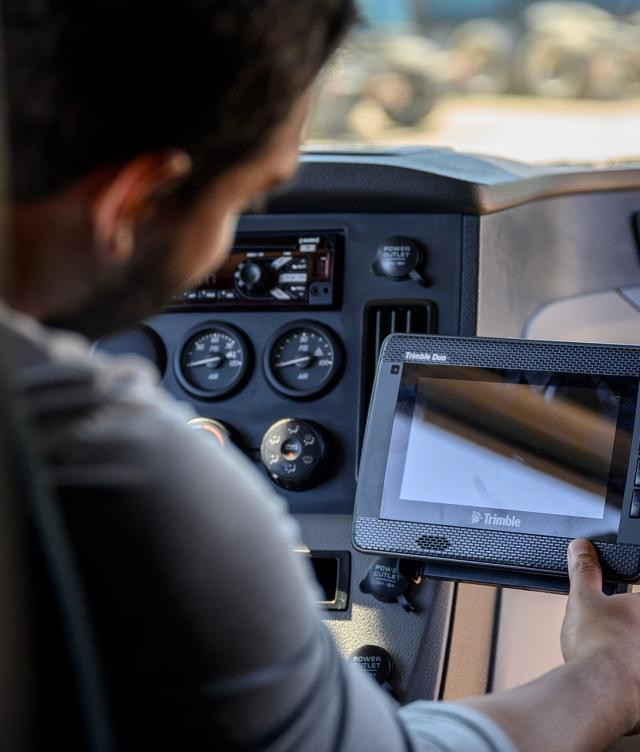 Match Your Hardware to Your Needs
Your transportation business is unique, which means your drivers' hardware requirements are unique too.
At Trimble, we offer multiple in-cab displays and vehicle gateway options to ensure you always have the exact tools they need to do their job.
Connect with a Sales Expert
The Right Hardware For Your Business
You need hardware that can withstand the rigors of the road and increase driver efficiency. Contact us today to learn how Trimble Hardware combines reliability and cutting-edge features to create the best in-cab and in-vehicle hardware tools.