THE PROBLEM:
Legacy In-Cab Equipment
Like your old cellphone, computer or other smart device, legacy equipment can still function but does it still meet the needs of your business and drivers? A few ways it might limit you include through:
An outdated user experience:
Many legacy displays utilize older operating systems that can't meet the current needs of fleets like yours and their limited computing power means slower load times and a degraded driver experience.
The inability to add new features:
Lack of software support means you can't take advantage of important code updates, new features or further customize the user experience.
A reliance on sunsetting wireless networks:
Older in-cab hardware relies on 3G wireless networks that will be sunset in 2022. The end result? A loss of your fleet's connectivity and loss of ELD certification.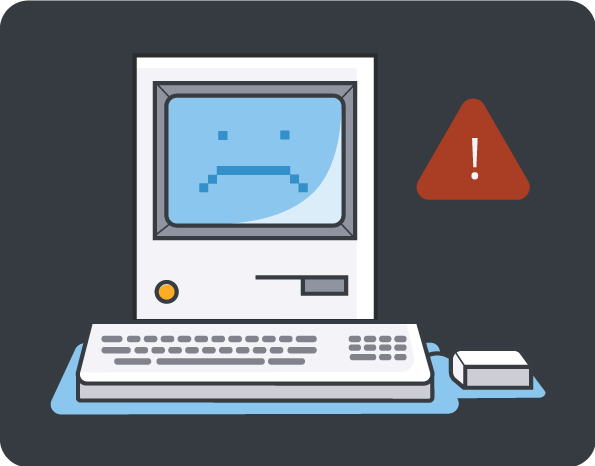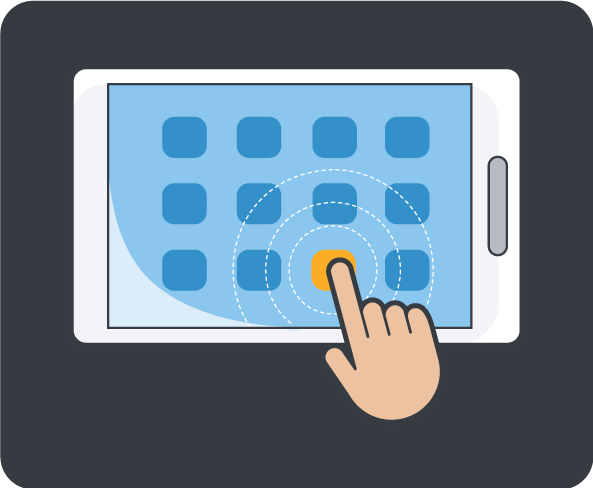 THE SOLUTION:
The Latest in In-Cab Technology: Trimble Duo All-In-One
While replacing equipment can seem punitive, you can use it as an opportunity to select newer technology. One example is the Trimble Duo, which combines a display and vehicle gateway in a single device, to give you the ability to leverage:
An Android-powered experience:
Modern displays utilize the Android operating system, which provides stability, security and the ability to tailor the user experience to your fleet's needs.
Access to new features and customization:
Android displays like the Trimble Duo allow you to enhance the in-cab experience as fleet management tech advances and your business grows.
Connection to 4G LTE networks:
The all-in-one nature of Trimble Duo means you only need one piece of hardware to move to 4G LTE and stay connected when 3G networks go dark.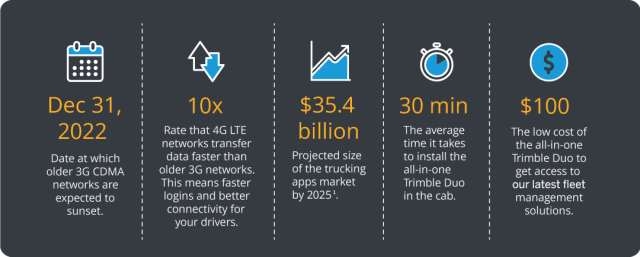 Optimize the In-Cab Experience
In an increasingly connected and competitive supply chain, having the right fleet management solutions is crucial to your success. Fortunately, implementing them has never been easier.
Maximize your fleet's performance by selecting any of our modern tablets, like the all-in-one Trimble Duo.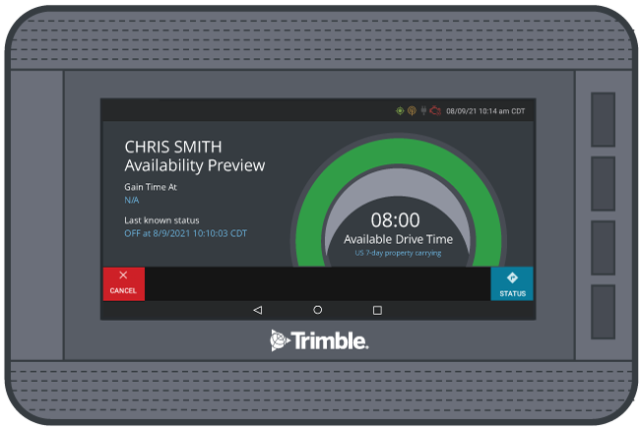 $99
For A Limited Time Upgrade To Trimble Duo All-In-One For $99 Per Device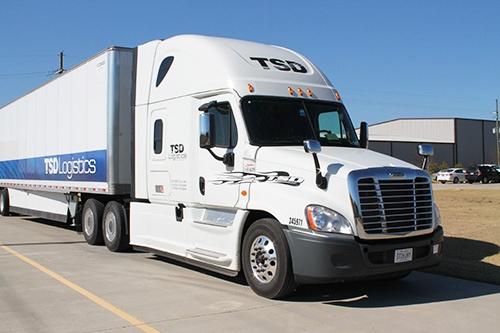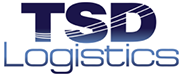 Customer Success Story
When it came time to upgrade their in-cab technology, TSD Logistics needed a solution that could be installed with minimal downtime. Enter the Trimble Duo.
We've heard nothing but positive feedback from our drivers. We won't purchase anything else but Trimble Duo.
Joy J. Hanson-Hickerson
Chief Financial Officer, TSD Logistics
Connect With Your Account Manager
Ready to upgrade your in-cab devices to take advantage of faster connectivity and a better user experience? Fill out the form and your account manager will reach out to schedule a meeting.